Apricots are delicious fruits that people eat in the summer, but also apricot benefits are many and important for health. So we're going to talk in this article about everything about apricots and its different benefits to our health.
Apricots:
The apricot origin originated from the Republic of China, and from there it spread to all parts of the world, particularly in Europe and the Mediterranean countries. Apricots belong to the flowering plant, characterized by medium-sized beads, perennial trees, pink-colored white flowers, and one-core fruit. Turkey is the world's largest exporter of apricots, exporting nearly 85% of the world's apricot production. It looks round and is yellow.
Apricot has many benefits for human health. It can be taken in several forms, for example in the form of apricot jam, apricot cake, apricot juice, or taken as it is. Apricots are also involved in the manufacture of many medicines and creams, especially cosmetics and skincare products. Apricots are described as the fruit of beauty and skin because it contains the most important vitamins such as Vitamins A and Vitamin C.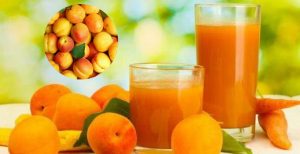 Nutritional value of apricot:
Apricots have a distinctive taste because they have high nutritional values. In addition to its high water content, one glass of apricot contains the following nutritional values:
| | |
| --- | --- |
| Nutrient | Nutritional value |
| Calories | 305 calories |
| Fat | 0 g |
| Carbohydrates | 79 g |
| Protein | 3 g |
| Fiber | 6 g |
| Calcium | 46 mg |
| Potassium | 1007 mg |
| Sodium | 11 mg |
| Phosphorus | 62 mg |
| Vitamin A | 157 mg |
| Vitamin E | 4 mg |
| Vitamin B3 | 2 mg |
Apricot benefits:
Apricots have many important benefits for the body in general, but the most important benefits are for skin and pregnant women.
 Apricot benefits for skin:
Fight against wrinkles, lines, cracks and the effects of aging on the skin because it contains many antioxidants that benefit the skin.
Preventing people from contracting various skin diseases such as pills, pimples, etc.
Removes the effects of aging that are clearly visible on the skin of the face especially.
The use of apricots increases the smoothness and vibrancy of your hands.
Get rid of dehydration and increase skin vitality.

Benefits of apricot oil for the skin:
Apricot oil is ideal for dry, wrinkled skin, as well as calming irritation and itching in the skin. There are many benefits of apricot oil for the skin, some of which are mentioned below:
Exfoliating: Apricot oil restores freshness and softness to the skin by mixing apricot oil with sugar. Rub the face using the mixture gently. Cleans the skin, removes impurities, dead skin cells, blackheads, and cleans pores.
Moisturizing skin: Apricot oil helps moisturize very dry areas of the skin, such as heels, elbows, hands, and feet.
Night moisturizing: Apricot oil can be used in the skin's night-time hydration, by mixing it with essential oil to taste, and massaging the skin after cleaning it.
To get rid of clogged pores, shiny nose skin, and is also used to moisturize dry skin.
Maintaining skin health: Apricot oil is lightweight, making it a moisture-friendly, seditious and moisture-restored moisture.
Skin nutrition: Apricot oil contains linoleic acid, vitamin A, vitamin E, and anti-inflammatory properties, making it an oil that is good for rejuvenating the skin, unifying its color, delaying aging, and calming eczema-infected skin.
Increase skin elasticity: Helps skin retain its elasticity, as it contains vitamin E. Skin elasticity is important in keeping the skin young. Antioxidants found in apricot oil fight free radical damage, inflammation, and non-saturated fatty acids help improve skin elasticity by making skin cell membranes more elastic. 
Anti-aging: Apricot oil contains vitamin C, vitamin E, and vitamin A. These vitamins are antioxidants, helping to stimulate collagen production that gives skin stability and suppleness, thus reducing fine lines, wrinkles, and rough skin It helps repair UV damage.
Makeup removal: Remove oil-containing make-up easily without having to rub the skin with water, and it also removes dirt. In addition, it prevents the skin from missing moisture after make-up by holding moisture in it. It also treats the skin, makes it soft and silky to touch, because it contains vitamin A, which is easily absorbed by the skin, and goes deep into it, to restore its cell membranes.
Acne treatment and its effects: Several drops of essential oil, such as tea tree oil, lavender oil, or sandalwood oil, can be combined with apricot oil as a conveyor oil to dilute essential oils. Use the mixture in the treatment of acne and its effects.
Get rid of the Klee: Apricots are introduced into the skincare product industry because of their natural properties in exfoliating and lightening the skin. Apricot oil also contains fatty acids and vitamins [A, C, E], which help nourish the skin deeply, reducing inflammation and removing the face. This is done by fattening several drops of oil on the skin, using a ball of coffee twice a day, until the kidneys fade.
Oil yams: Bitter apricot oil is often used in oil yams, such as Aromatherapy Massage and Swedish Massage because it is rich in vitamin E. It is lightly considered The skin absorbs it easily. It is also used in traditional medicine to treat skin diseases because it is moisturizing, nourishing and preventing dry skin.
Apricot oil also is one of the best oils used in massage because it reduces tension, pain, and skin infections.
Dried apricot benefits:
Iron compensation in patients with endometriosis: people with Endometriosis experience severe bleeding resulting from iron deficiency. Dried apricots can be a good option to make up for this deficiency because they contain iron.
Help reduce blood pressure levels: Eating dried apricots helps reduce blood pressure levels by slowing down the effect of sodium on the body, as a result of its potassium-containing it.
Promoting cardiovascular health: Dried apricots contain many nutrients such as fiber and potassium, which help promote cardiovascular health.
Reduces the risk of constipation: Dried fruits contain a high amount of fiber, greater than those in fresh fruits. Fiber helps make bowel movements more strain, helping to transport waste easily, so people with constipation are advised to increase the amount of dried apricots, as well as other dried fruits.
An important source of vitamin A: Apricot contains vitamin A, which is in the form of Beta-carotene, which is an antioxidant and can be converted to retinol, which helps improve night vision.
Source of vitamin E: Dried apricots contain vitamin E, which is an antioxidant, protecting cells from harm caused by free radicals. It also protects lipoproteins that transport cholesterol through the bloodstream and prevent squabble from sticking to the arteries. Vitamin E also helps build the structure of cell walls and absorb fat-soluble vitamins such as vitamin A.
Source of vitamin B: Contains vitamin B2 or riboflavin, vitamin B3 or niacin, which are involved in the formation of enzymes that turn food into energy. Niacin also maintains and functions normally. In addition, dried apricots contain a little folic acid and vitamin B6.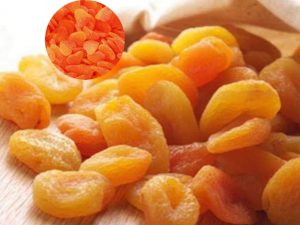 Apricot benefits for pregnant women:
Apricots have many benefits for pregnant women:
It protects against gestational diabetes because it maintains its normal blood sugar level.
It contains high levels of minerals necessary for fetal growth and pregnant health such as potassium, silicon, calcium, phosphorus, and iron.
It protects against anemia because it contains cobalt and copper.
Reduces pregnancy problems such as constipation, hemorrhoids, because they contain high fiber content.
Apricot recipes for skin:
Apricot mask to lighten dark skin by cutting apricot fruits and distributing them to the face, neck, and hands. Keep them on for about half an hour and then wash the face with cold water.
Apricot mask for pure skin, by mixing apricots with olive oil. Preferably applied to the face for about 10 minutes and then washed with lukewarm water.
Apricot juice mask. It is distributed using clean cotton on the entire face. This results in skin getting hydration, nutrition, shine, radiance, and vitality.
Boiled apricot mask. By distributing it throughout the face, which reduces the wrinkles visible on the skin.
REFERENCES & RESOURCES: